I am not a great cook usually. I usually cook and eat whatever is the fastest and easiest - very often this means a lot of American food. However, when someone is coming to dinner or to stay, I blossom into a remarkably good cook. It's quite awful really, because I like the food I cook when I cook it for someone else. When I was younger, I never did any cooking - and consequently never really learnt to cook very well. Most of what I cook now is either intiutive or self-taught through web-surfing or cookbook browsing. Anyway, there are two kinds of food that I like best - foods that appeal to the two parts of me - the Hyderabadi/Andhra food and the Malayalee/Kerala food. My sister is coming to stay for Onam and for a few extra days. which means a LOT of Andhra/Mallu food at home (we both enjoy it). So, I was looking up recipes and thought it would be fun to post a few recipes that I plan on cooking this weekend on here.
The recipes are taken from www.wikipedia.com (Mallu) and www.sailusfood.com (Andhra).
The pics are courtsey spicychilly.blogspot.com and www.sailusfood.com. Enjoy.
KERALA MANGO PACHADI

Ingredients:
Raw/Ripe Mango - 1
Coconut-(scraped) - ½ cup
Dry chilly – 4 (fried)
Oil-1 table spoon
Mustard- ¼ teaspoon
Water- ¼ cup
Salt to taste
Preparation:
1. Peel and cut the mango into small pieces. Mix with salt.
2. Grind coconut with water and 2 dry chilies thoroughly.
3. Add the coconut-chili mixture to the mango and mix well.
4. Heat oil in a kadai; heat mustard and fry dry chili.
5. Lastly pour into the mango coconut mixture.
6. Best served with plain rice.
*************************************************************************
ANDHRA TOMATO RAVA UPMA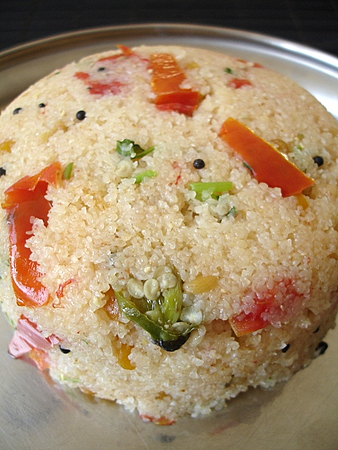 Ingredients:
1 1/2 cups wheat rava/sooji/semolina
1 finely sliced large onion
1 large tomato, finely chopped
3-4 slit green chillis
1″ ginger finely chopped
1 tbsp ghee or oil
1 tbsp chopped coriander leaves
3 3/4 to 4 cups water
1 tsp mustard seeds
1 tbsp bengal gram
1 tbsp black gram dal
12-15 curry leaves
Salt to taste
Preparation:
1. Heat oil, add the mustard seeds and let them splutter.
2. Sauté bengal gram, black gram and curry leaves.
3. Add and sauté sliced onions, green chillis and ginger.
4. Add and sauté chopped tomatoes on medium heat for 4 min.
5. Add salt and water and bring to a boil.
6. Add the wheat rava while stirring continuously to avoid lumps.
7. Cover with lid and let it simmer for 10-12 minutes.
8. Turn off heat. Mix well.
8. Garnish with chopped coriander leaves. Serve hot with chutney.